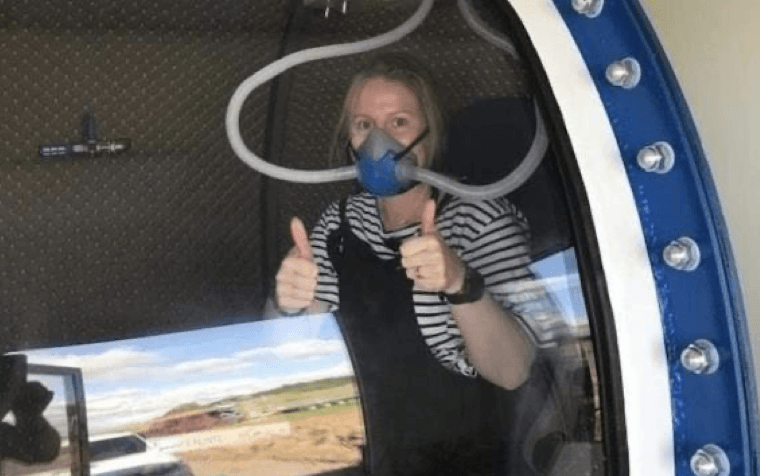 Hyperbaric oxygen chambers, traditionally used to treat decompression sickness in divers, are showing promising results in Covid patients.
Leanne Lawrence was bedridden for months until she tried oxygen therapy After contracting Covid in January, Leanne Lawrence endured eight months of debilitating symptoms: chronic fatigue, excruciating migraines, difficulty breathing, and gastrointestinal problems were just some of the ailments that left her bed- bound and unable to work. The 39-year-old midwife's assistant, from Aberdeenshire, was hospitalised three times.
Doctors concluded that, like an estimated two million people in England, Lawrence was suffering from long Covid, defined as the persistence of symptoms for more than 12 weeks after infection. There was little they could do.
"Before September 6 this year, I genuinely thought I would never feel normal again," she says. "I was bedridden pretty much for the whole year… the chronic fatigue was horrific. Even thinking and talking would be enough to put me back to bed." Now, however, Lawrence's heart rate is back to normal, her breathlessness and chronic fatigue are gone, and her full-body pins and needles are a distant memory. She credits her recovery to what she describes as "a miracle wee chamber" – a submarine-like hyperbaric oxygen chamber, in which patients receive 100 per cent medical oxygen through a mask (the air we normally breathe contains 21 per cent oxygen).
The containers pressurise to two atmospheres, and are typically used to treat decompression sickness in divers – but they are also used as an alternative therapy for conditions like multiple sclerosis and more recently, long Covid. When pure oxygen enters the bloodstream, it is thought to reduce inflammation in the body and help promote cell growth and repair.
In September, Lawrence read about hyperbaric chambers on a long Covid support page and was recommended a local service that charged £400 for 10 one-hour sessions. Fifteen sessions later, she says the treatment has transformed her life: "I was on tablets, I'd tried everything – energy drinks, cranial osteopathy, medication, natural hemp remedies underneath my tongue… you name it," she says. "Now, I can climb the stairs in my house and say goodnight to the kids, and then I can have supper with them. I've been managing to drive little journeys, and every Thursday my husband and I walk a mile."
You can sit or stand inside the multi-seat hyperbaric oxygen chambers, and you can take in a phone or book. Once inside, patients put on the oxygen mask, and the atmosphere compresses gradually for 15 minutes. When the initial 15 minutes are up, patients receive 100 per cent oxygen for an hour, followed by a further 15 minutes of decompression. Patients describe the experience as noisy, and almost like being inside a plane (your ears pop).
A hyperbaric chamber enables patients to receive 100 per cent medical oxygen. However, the success of the therapy in treating long Covid is so far anecdotal, as there is limited clinical evidence into
its efficacy. There has been research into the use of hyperbaric oxygen chambers for illnesses other than long Covid, such as for treatment of decompression sickness (for which NHS England commissions the chambers).
This week, researchers published a systematic review into the impact of hyperbaric oxygen therapy on glycaemic control in people with diabetes, which suggested that the treatment "can impact glycaemia for people with diabetes".
One of the researchers, Dr Timothy Robbins, a clinical lecturer at Warwick Medical School and University Hospital Coventry & Warwickshire, is also investigating long Covid and the impact of hyperbaric oxygen therapy. He says the results he's seen so far have been "really fantastic – we've had people who can't function in their daily lives… and they have the oxygen therapy, and some of them make really good recoveries."
However, as he points out: "it's not the same for everyone – the impact seems to be different on different people, and this is why there needs to be more research into it."
"There needs to be, in my personal opinion, more funding to investigate and set up both mechanistic studies and larger trials to understand [the effect of hyperbaric oxygen therapy on long Covid]." Robbins hopes that we will embark on trials of the treatment in the UK, so that – provided the evidence suggests its benefits – it might one day be offered on the NHS. "It's not a miracle cure for long Covid, but it could be a really important treatment in the armoury."
"The results that we've seen so far have been really promising, but they're not randomised controlled studies so far," he says. "We don't know whether there's a placebo effect." There is also uncertainty regarding the number of hyperbaric therapy sessions needed to treat long Covid, he notes.
"As far as I'm aware, there is not a single published paper into the benefits of hyperbaric oxygen therapy on long Covid," says Robbins. Yet this could soon change: Dr Anders Kjellberg, senior consultant and head of the hyperbaric unit at Sweden's Karolinska University Hospital, is currently leading a clinical trial into hyperbaric oxygen therapy and long Covid.
"We do it in a randomised, controlled, double-blind clinical trial, which actually means that half of the participants will receive hyperbaric oxygen therapy, and the other half will receive a sham treatment [a different pressure of air to that used in the hyperbaric chamber]." he explains. All of the participants in the trial have long Covid, and each is given 10 hyperbaric oxygen therapy sessions of 90 minutes each, over a period of maximum of six weeks, at a pressure that is corresponding to 14 metres underwater.
Could this treatment be the answer to many long Covid cases? "I believe so," says Kjellberg. "It [has] thereputation of being an alternative medicine without evidence, which is unfair for this extremely potent drug – and that's how it has been for the past 100 years. We see that it seems to work on pretty much everyinflammation."
For Steve Stickley, the effect has been gradual, but he feels invigorated and energised
But, as he points out, it's not suitable for everyone. "You need to be able to cope with the environment inside the hyperbaric chamber – you cannot be overtly claustrophobic, and you need to be able to equalise your ears since the increased pressure will reduce the volume of air inside your ears."
"We know that hyperbaric oxygen is generally regarded as safe, so we don't expect a lot of adverse reactions," he adds. "But as [long Covid] is a new disease, we don't know how people will react to it. It hasn't been tested on this condition before, and it's important to register all the adverse reactions."
Kjellberg believes that the "short and mild bursts of oxidative stress" experienced during hyperbaric oxygen therapy are beneficial in treating long Covid.
For Steve Stickley, 67, the therapy's effect has been "notable". Stickley, a children's picture book writer and oral storyteller from Nottingham, caught Covid in October last year and endured crippling long Covid symptoms – difficulty breathing, body spasms, chronic fatigue, low oxygen saturation levels – for months. The illness left him unable to work, and a lack of energy and strength in his legs meant that he had to use a wheelchair.
In May, his wife came across an article about a nearby hyperbaric oxygen centre and its effect on long Covid, and he thought: "That's what I need – to get good oxygen into my body."
He phoned the centre, and within an hour he was sitting in the chamber for his trial session. After a month of treatment, Stickley's SATs were "back to normal" – and recently he felt able to walk 5k. "I managed to do it. It was amazing… I actually sprinted the last 30 metres."
Since then, he says, "I haven't looked back – I've had 36 sessions now." The effect has been gradual for him, but he says "sometimes you step out of the chamber and feel invigorated and energised."
Stickley emphasises that the treatment is not for everyone, nor is it a miracle cure. His daughter, who tried the therapy for her own long Covid, didn't suit it – she has asthma and experienced chest pains under pressure in the chamber.
Stickley still experiences bad days when his breathing is laboured and he has to "lie flat with fatigue", but he credits the "good days" to the hyperbaric therapy. "It would be foolish not to because the objective proof is that my SATs are in the normal range, [even] on the days when I'm feeling dreadful," he says.
Julie Wesson, centre manager of the Multiple Sclerosis Therapy Centre in Nottingham, where Stickley receives his therapy, says she's seen first-hand the "amazing" impact of hyperbaric oxygen therapy for long Covid. The centre, a small charity run by part-time staff and volunteers, started out primarily treating MS, but has been treating long Covid patients throughout the pandemic (it subsidises the cost of hyperbaric oxygen therapy for long Covid patients, charging £15 a session).
"You could sit here and cry sometimes," she says. "People come in for their trial session and they're just devastated; to then see them two or three months down the line… it's lovely."